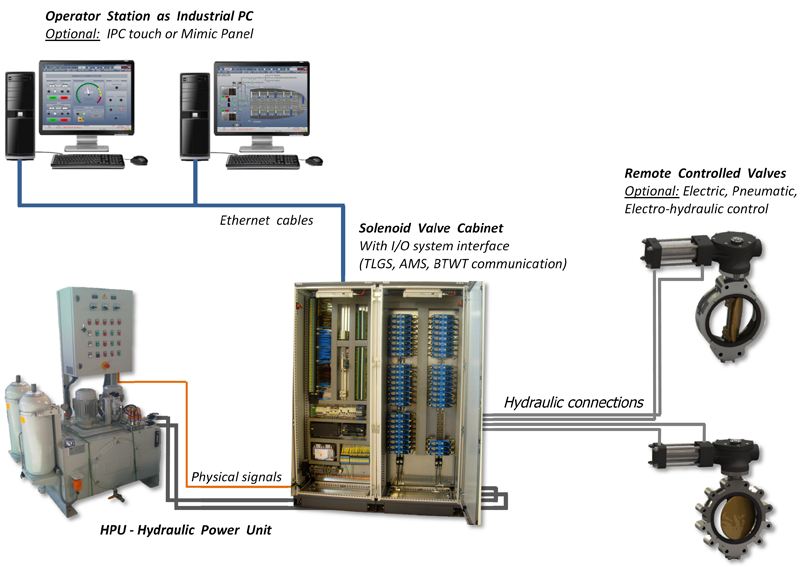 Remote Operated Valves (pneumatic or hydraulic) are often integrated into the same package with the Operation and Control System. DENNIS NAKAKITA has a long experience in the design of the Remote Control System (RCS), being able to provide the whole package (Butterfly Valves + RCS + Console), but also provide just part of the system.
The Remote Control System consists basically in two elements:
Hydraulic power unit (just for hydraulic controlled valves).
Hydraulic Power Unit (HPU)
DENNIS NAKAKITA Hydraulic Power Unit (HPU) is designed to supply the motive fluid to the equipment for enabling the operation of the hydraulic cylinders of the valves.
DN hydraulic equipment´s normally work under a pressure rating from 60 to 80 bar, although they are suitable for a working pressure rating from 40 to 200 according to the requirements and specifications of each customer. Capacity and pressure outside this range are available upon request.
Solenoid Racks (SR)
Solenoid Racks (SR) allow the control and the position signalling of each of the hydraulic operated valves.
The hydraulic system consists of two main lines, one for supplying and the other one for the return of the oil. These two lines link the HPU and the SR, from which two hydraulic pilot pipes come out to each one of the hydraulic actuators of the valves when the operation is double action. When it is single action, there will be just one pipe to each one of the actuators.